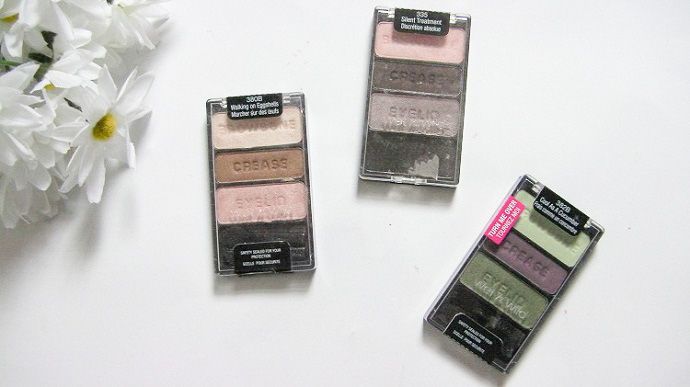 The hype around these Wet n Wild eyeshadows is insane. It seems like the rave about their quality being unbeatable for the price is never lacking in the blogging community; to the extent that Wet n Wild eyeshadows are now automatically on every beauty lover who is visiting America's wishlist.
Last year I caved in and bought one of their trios and I was also happy to have been gifted two others in my
swap
, giving me plenty opportunity to see what the fuss was all about.
Walking On Eggshells needs no introduction. Out of all the trios, this is perhaps the one that is most famous. Brimming with wearable neutrals, it provides a basic set of eyeshadows that would be great for beginners and neutral eyeshadow lovers. It includes a shimmery pink for all over the eyelid, a medium brown for the crease and a satin champagne. The outstanding favourite for me is definitely the 'brow bone' shade as I prefer champagne shades to pop on the lids for an easy, eye-brightening effect.
Silent Treatment marks my first trio and the beginning of my love affair with Wet n Wild shadows. My ultimate beauty soft spot is taupe eyeshadows and this contains such a beautiful shimmery taupe-brown. People have said that it is a dupe for MAC's Satin Taupe and I can definitely see the resemblance, although I think Satin Taupe has lesser grey undertones than the Wet n Wild. The 'brow bone' shade is another one that I love to pack onto the lid, followed up by the taupe in the crease for a subtle, smoky look. The black 'crease' shade is one I hardly reach for because of its glitter and if I ever go for a black, it is usually matte.
Cool as a Cucumber has not received much love sadly, due to me finding it hard to pull off green on any occasion (and that includes clothing). But, the shades are gorgeous, especially the matte, pastel green 'brow bone' shade. I can envision the eggplant 'crease' colour as a killer combination with the taupe from Silent Treatment and perhaps the darker green on the lower lash line? The possibilities are endless!
I definitely see why many beauty lovers give WnW shadows the highest praise. The pigmentation is very impressive, especially at such an affordable price point. The shades have such a nice sheen that just pull attention to the eyes.
The only gripe I have with these is that the shadows themselves are very soft, making it easy to pick up too much product and I can understand why some prefer shadows of firmer texture, like say, Urban Decay. However, the quality for the price is already enough for me to consider getting more.
Do you own any Wet n Wild eyeshadows?