Risk taker is not my middle name. I like to play it safe and never stray into the unknown, such as bright colours. Rarely will you see me sporting glitter eyeliner, green eyeshadow or even a red lip. Bright pinks, especially lip products seem to be all the rage and I can't help but envy those that can pull it off. Occasionally when I'm feeling fancy, I like to whip out a bright pink and embrace the change.
These are the products that I turn to when I am in the mood for something more adventurous. Bear in mind that by 'bright pink', I mean brighter than the average neutral pinks, and these are probably child's play to those that rock the brights and neons daily.
LIPS
The Revlon Super Lustrous Lipgloss in Pink Pop is quite appropriately named. I'm not a lipgloss kind of girl but if I were to recommend a perfect pink gloss, this would be one of them. The formula is creamy, pigmented and not sticky. I also really like the fuzzy doefoot applicator and the gloss isn't too thick so it sits comfortably on the lips.
If I hadn't mentioned it already, the Revlon Just Bitten Kissable Balm Stains are a hit due to their ease of application and longevity. The shade Lovesick is more of a fuchsia pink and while on the brighter side, it is still very wearable.
The Maxfactor Colour Elixir Lipstick* in Magenta Divine is probably my favourite brighter pink lipstick. It strongly resembles my beloved medium pinks, but still gives that extra pink pop so I can easily sport it everyday. It also helps to brighten the complexion.
CHEEKS
I personally would pick the cheeks as the safest area to play around with bright pinks as you can always blend them out to a subtle flush. The NYX blush in Spice is very pink (running out of adjectives here) and definitely gives that hint of something while being very much wearable, due to the dusty nature of the shade. I don't go for this product very often because I prefer my light pinks but I can imagine this looking great on tanner complexions.
Probably the brightest pink item I own is the La Femme blush in Pink Velvet. If I were to sum it in one word, it would be 'barbie'. It is close to being neon and surprisingly, I quite enjoy this cool-toned friend on my fair complexion. This shade is probably the blush equivalent of the eye-catching pink lips I often see people sporting.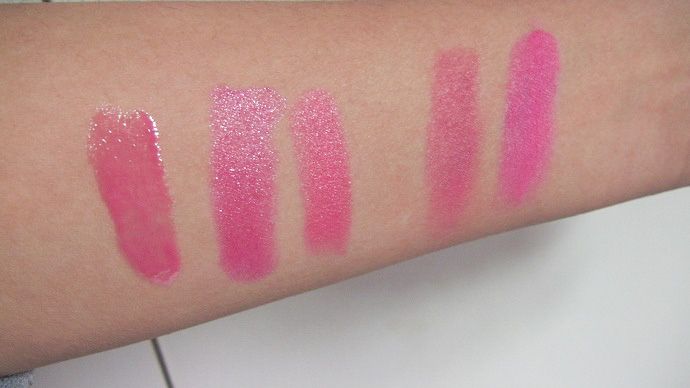 Revlon 'Pink Pop' // Revlon 'Lovesick' // Maxfactor 'Magenta Divine' // NYX 'Spice' // La Femme 'Pink Velvet'
*Provided for consideration. All opinions are 100% hoh
Do you love bright pinks or stay away from them?